Among businesses selling hijabs and entrepreneurs selling chocolate-covered dates, designer Kausar Sacranie is talking to the women huddled around her stall at a Muslim lifestyle festival in London where she is displaying her latest collection of burkinis.
"Is it lightweight?" asks one woman in a shalwar kameez. "What colours do you sell them in? What sizes do they come in?" asks another, as Kausar lays out her Modestly Active range out on the tabletop. A man stops to show his support: "Did you know they're banning this in France? It's unacceptable. Keep doing what you're doing."
Kausar, who's from London, has been inundated with requests in the last few days – from media, from major retailers, and customers – all inquiring about the burkini: a two-piece garment made of a hooded tunic and trousers, and originally coined by Aheda Zanetti in Australia. The unassuming beach outfit has made headlines after French politicians banned the modest swimwear on beaches.
"I'm not happy about it," Kausar says when asked about the controversy surrounding the burkini. "The surf outfit is exactly the same, but is just missing a hood. But if you were to wear a cap with a swimsuit it's the same.
"Then [politicians] say they want Muslim women to mix and integrate. It's a freedom of choice. They want to wear this. And they are integrating, and when they are making an effort, we come out with a ban? I think that's really, really unfair for women."
She adds: "I think the people who are saying we are oppressed because we wear a burkini … have got that wrong, because I have non-Muslims who wear the burkini, so how do you justify that? Are they being oppressed?"
Her clothing line also pioneers other forms of lightweight activewear, and Kausar says she believes it will encourage more women, including those who are Muslim, to take up sports such as swimming.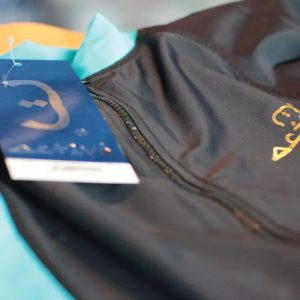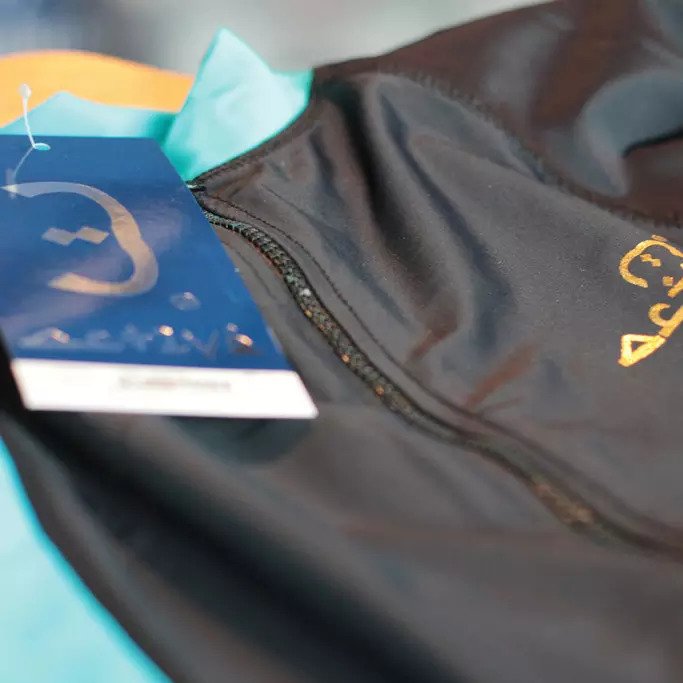 Aisha Gani / BuzzFeed
Sabrina, 29, a previous customer who stops to peruse the new range, is also unhappy about the ban. "I think it's unfair, and if around the world we're talking about equality and stuff, women and everyone should have the choice to wear what they like."
She says she chose to wear a burkini because she was conscious about her body, but did not the wear the head covering. "It was good," she says. "I still have mine actually, and when I go swimming with the family, I wear it."
"It's a woman's choice to wear it," says Hannah, 24, who visited Kausar's stall in the bazaar at the Halal Food Festival in London Docklands with a friend. "I wouldn't personally wear it, but that's also because I'm not Muslim. But if a woman chooses to wear it then I think there's no problem. It's a matter of choice, and they are colourful, they have patterns on them, so I think that's nice and cheerful. I don't see anything wrong with it."
Kausar's company, however, estimates that 30% of all customers who have bought the product are not from Muslim backgrounds. She says: "We cater for everyone and it doesn't have to only be for women who are covering; it's for anyone who wants to cover a bit more or don't want the normal regime before going to the beach of waxing their legs and whatever.
"So I've covered all those points for them so they can just put their swimming costume on and just enjoy [being active]."
Kausar, who designs the products herself and manufactures them with her husband, Ismail, in a factory in Leicester, was inspired to start the business in 2007.
"It started when we first went on a family holiday, and I had started covering up a bit more," she says. "Yet wearing the normal swimming costume and trying to put leggings and a T-shirt on was dragging us down. My girls were growing up so I thought, Let me put something together so I can enjoy the pool, and the beach, with my family."
On her next holiday in the Middle East, Kausar was inundated with women telling her how beautiful the design was, asking where she got it, and how they could get their hands on one: "So I sat down and spoke to my husband until 2am in the morning and said this is something I want to do."
Her swimwear range made the front pages in 2011 after Nigella Lawson wore a Modestly Active suits while she swam in the sea at Bondi Beach, Sydney.
Matrix Pictures
"It went crazy," Kausar says. "It brought awareness, even if there were people who were a bit apprehensive to wear a product like this at first, it showed there is a product that can protect you from the sun as it's got UV protection of factor 50… It's done very well since then. I would say the interest went quite high, and sales went up by 70%."
Kausar adds that "any publicity is good publicity" and says the most memorable article for her was when The Sun sent a Page 3 girl to wear one of her burkinis on Brighton beach: "Her comments were amazing! I wasn't expecting that. She said, 'This is the lightest product I have worn in the pool which is also covering, and very comfortable.'
"As you can imagine, many non-Muslims contacted me a lot after that. I'm really happy. The publicity allowed people to understand I'm here and this is what I do."
Kausar says the company began with two-piece suits made of a tunic with a hood and trousers, "but after Nigella Lawson wore it, we had lots of people ringing us up asking, Why is it just for [completely] covering women? What about women who don't want to cover?"
As a result, Kausar designed products without a hood, as well as three-quarter-length garments and short-sleeved alternatives.
Have the garments really made a difference for women? "The women who are happy to wear my product love the designs, and how it has given them the freedom of choice, she says. "They don't have to wear standard beachwear. I think it's liberated them."